Full Practice Management
Demographic / Master File Data Entry / Bill Coding & Charge Review / Electronic Billing / Follow-up Collection / Accounts Receivable Managements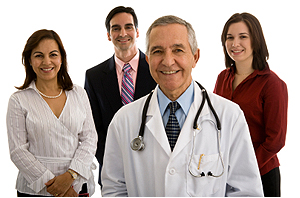 Let our experts fully automate your office so that it runs most efficiently. Our experienced staff will assume the responsibility of prescreening and verifying patient demographics, insurance coding and monitoring of reimbursement patterns to ensure optimum returns. Generation and follow-up of both first-party and third-party bills, insurance carriers and self-pay patients, posting of payments, and finally the collection of delinquent accounts.
Our dedicated staff will promptly enter all claims within 24 hours of receipt. All claims will of course, be reviewed for accuracy and verification prior to submission. Claims will then be sent electronically whenever possible following Medicare's 5010 ansi HIPPA complaint guidelines.
We are constantly in contact with the various insurance carriers in order to follow up within 30 days of submission and weekly thereafter. Our knowledgeable staff is very persistent and will do everything in our power to ensure the maximum reimbursement on all procedures billed.
Finally, detailed monthly statements will be forwarded to patients with remaining balances due. Our sensitive staff will work with your patients to ensure maximum receivables for your practice. Reports will be provided monthly detailing all practice activity including claim submissions, accounts receivable aging reports, procedures performed and payments received.