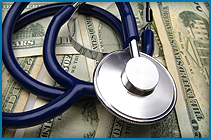 Our professional staff is proud to offer the most comprehensive, up-to-date practice management and medical billing services in the industry. We invite you to experience why our providers have enjoyed the many benefits of entrusting their accounts to Accu-Med's billing services.
We at Accu-Med pride ourselves on our attention to detail and, most importantly, our commitment to our providers. We will work closely with your office staff to ensure the most prompt and accurate claim submissions. Our staff is not only proficient in analyzing coding as well as the submission of claims both electronic and by paper, but most importantly, we are professional and caring. We are, of course, HIPPA compliant.
After years of working in the medical field, our founder, Robyn Goldberg, realized there was a serious need for medical practices to be able to focus on providing the best care for their patients without having to sacrifice time and effort relating to the billing end. Unfortunately, too many claims wind up as unpaid due to improper submission and claim follow-up. We make it our top priority to ensure this absolutely does not occur.
It is our commitment to take the burden away from you and your staff. We assure you that you will soon see the benefits of maximum receivables and cash flow through our prompt and efficient claims submissions and follow-up. Of course, your practice will be kept completely up-to-date with our monthly state-of-the art accounts receivable reports.
Find out why so many providers turn to us to increase their practice's cash flow while minimizing their account receivables. We welcome the opportunity to meet with your personally in order to discuss how we may play a key role in assisting your practice maximize the benefits of Accu-Med's billing solutions.